2015 Vendors and Exhibitors
Please be sure and visit our Vendors and Exhibitors at the 2015 Festival Marketplace.
And Thank You! to all our Vendors and Exhibitors for their contributions to making the Festival a success.
Artemesia Publishing
facebook.com/ArtemesiaPublishing
Artemesia Publishing is a New Mexico-based publisher of quality books by quality authors.  Our catalog features young adult and early reader titles, non-fiction, activity books, thrillers, and romance.
At the age of 56, the twists and turns of life brought Kathy O'Dwyer to Aravaipa Canyon Ranch, a retreat center located in the pristine wilderness of Aravaipa Canyon, Arizona.  Trading her high heels for steel-toed shoes, while living and working on the ranch, Kathy gave birth to her book, Breathing Blue, which chronicles her two years in Aravaipa.  Through her writing Kathy not only found her voice but also manifested a life of grace, purpose, and fulfillment.
Editorial Freelancers Association
The Editorial Freelancers Association's members are editors, writers, researchers, copy editors, indexers, proofreaders, translators, and others who offer a broad range of skills and specialties in traditional and eBook preparation.  EFA's online member directory and job lists offer free, fast and effective access to this wide variety of freelancers when you need the right person to work with you on your manuscript.
Sandy Wright
Sandy lives in Arizona with her husband, her college student son, a rescued Australian Shepherd named Teak, and two twenty-pound domesticated black panther cats.  She fell in love with the southwest desert, including its Native American influences, when she relocated from the Midwest.  Song of the Ancients, the first novel in the Ancient Magic paranormal suspense series, introduces readers to witchcraft and shamanism, seen through the eyes of an ordinary woman.  Readers interested in witchcraft–or just a dark, spooky tale–will enjoy this paranormal suspense, written by a real-life Wiccan High Priestess.
The Literacy Link-Leamos mission is to provide free, personalized instruction to expand individual potential and enhance quality of life.  Our tutors can help with Basic Adult Literacy, Basic Math, GED preparation, ESL and Citizenship preparation.  Also through the Let's Read program, we distribute free books to elementary school children at their schools.
 Silver City Friends of the Library
The Friends of the Silver City Public Library is a non-profit organization committed to furthering the cultural and education programs of the Library.
Casa de
Snapdragon LLC Publishing
Casa de Snapdragon is traditional publishing at its best for 10 years.  All genres.  Located in Albuquerque, NM.
Christopher Saxman
www.fierrocanyongallery.com/books.html
Local area writer Christopher Saxman has written several books over the past twenty years.  Christopher's original vocation was that of an architect.  For thirty years he practiced in his own architectural firm on Whidbey Island, WA during which time he began to turn his creativity to writing.  Saxman is also a retired Decorated Marine and Combat Veteran who has traveled extensively and he uses these life experiences in his writing.  His work ranges from "Action Mysteries" to "Western".  He has been know to keep a reader up all night.
Terra Nova Books
www.facebook.com/terranovabooks
Terra Nova  Books is excited to introduce our newest release, Love and Death in A Perfect World.  We invite you to meet author Barbara Gerber at our booth.
Terra Nova Books is an independent publisher based in Santa Fe.  Since our founding in early 2012, we have tapped into a wellspring of creative talent, fascinating information, and moving personal stories.
Terra Nova's growing catalog includes page-turning novels, unique modern poetry, keys to self-empowerment, and guides to mouth-watering cuisine, as well as memoir, essay, and reflection.  Visit us at our booth or online  and see what we have to offer.
J.R. Conway
Author JR Conway has written a book, Greyhound Therapy, which is what the practice of dumping undesirables into neighboring counties is called. The novel follows a county sheriff with a jurisdiction along an interstate highway which, like an artery, is pumping criminals and mentally ill strangers in his community.  Undermanned and overwhelmed, the sheriff is faced with an exploding population, inadequate facilities, and law enforcement from other counties all the while sending more difficulties his way.  Through all of this he is having to solve a murder that occurred in his jail, work with his wife who has been diagnosed with cancer , and handle the continuous flow of transients.
Nightstalker Press
www.nightstalkerpress.vpweb.com
Gary A. Wilson grew up in the town of Ogdnesburg, New Jersey.  He is a US Army veteran who served during Desert Storm.  He left the Army in 1993 due to service connected injuries and is medically retired.
He is the author of seven novels, the Defense Force series, Covert Ops Force series, and a Southwest Steam punk novel.
He currently lives in Albuquerque with his wife, Maria, his stepson, Andres, and two dogs.  They share in three businesses:  Nightstalker Press, Wilson Editing, and Maria's Bracelets & More, under the umbrella of W/A Enterprises.
Camelia Miron Skiba
Historical/Contemporary/Military/New Adult Romance.  From ancient times to present day, finding love one story at a time.
Who I was yesterday…I'm no longer today, nor will I be tomorrow.  Each day I grow a little.  I stumble, fall and get up.  I learn something.  I dream, desire and look to the future.  Who I am is not important, but what I leave behind is.
Nancy Coggeshall Freelance Writing
 "Coggeshall does a masterful job of weaving the place into the person and person into the place."–Tanya Finchum, Southwestern Historical Quarterly
Quentin Hulse was emblematic of the Gila Country's cultures and its archaeological and territorial past.  He lived to see the area's trajectory from hard scrabble ranching and prospecting to a popular recreational destination in which trailers replaced tents and all terrain vehicles are favored over horses and mules.
Now in a paperback edition, Gila Country Legend , won the New Mexico Book Association award for First Book and three other commendations.
Mimi Sebastian
www.facebook.com/mimi.sebastian.9
Mimi Sebastian raised herself on books and the strange and unusual, and an unhealthy dose of comics and movies. When a career as a punk guitarist failed to materialize, she completed her degree in urban planning. By day, she debates the merits of transport oriented development, by night she writes about necromancers and pirates.
Patricia R. Mihok
A Glimpse of the Chihuahuan Desert/Una Vislumbre del Desierto Chihuahuense by Patricia Mihok was self-published in February of 2014. It is a general overview of the largest desert in North America illustrated with over 100 color photos, most of which were taken by the author.
The book won first place for children's non-fiction in the New Mexico Press Women 2015 Communication Contest. However, it appeals to many age groups. A photo from the book, "Riparian Sunrise", won honorable mention in the New Mexico Museum of Natural History and Science 2014 Naturescapes Photo Salon.
Carly Fall
www.Facebook.com/CarlyFallPage
Carly Fall is a romance author residing in Arizona where she is a wife, mother and slave to the dog, Nicky.
She is the author of the award-winning and Amazon best-selling sci-fi/fantasy romance series, the Six Saviours.  She is also the author of the military paranormal romance series, the Supernatural Renegades, as well as other paranormal and contemporary romance.
Beate Sigriddaughter's most recent novel, Audrey: A Book of Love was released by ELJ Publications, http://eljpublications.com/, in July 2015. Audrey tells the story of a young poet who falls in love with an older woman and a young man at once.
Beate Sigriddaughter, lives and writes in Silver City, New Mexico, Land of Enchantment. Her work is widely available online and in print and has received several Pushcart Prize nominations and poetry awards, including the 2014 Desert Exposure poetry award.
New Mexico Book Association
New Mexico Book Association (NMBA) is the only statewide nonprofit serving all book professionals.  We are passionate book people who have come together through our common interests to preserve, protect and promote the book in all its forms.  Our members include book creators, writers, editors, publishers, illustrators, librarians, booksellers, book designers, typesetters, printers literacy advocates, agents, reviewers, and avid readers.  Our services include professional development workshops, our Libro newsletter, monthly networking luncheons, a monthly online events calendar, opportunities to show and sell books at major book festivals and trade shows, and more.
 Sharleen Daugherty
www.sharleendaughertyauthor.com
"A breathtaking tale of risk, vision, and wisdom, Sharleen Daugherty's Double Doll leads us from the pressure cooker of Wall Street to the big skies of the Navajo Nation. Like the Navajo weavings the book celebrates, Daugherty intertwines issues of race, class, and gender against a backdrop of heartbreaking beauty."
—Robert Wilder,
Author of Daddy Needs a Drink
"Sharleen Daugherty writes about her journey from corporate executive to a specialist in Navajo weaving with an honest voice and an open heart. She tells her own story with humor and humility. Daugherty is a fine writer and a worthy guide for anyone interested in learning more about the Diné from the perspective of an astute and non-judgmental observer."
—Anne Hillerman,
Author of Spider Woman's Daughter (Harper Collins)
Winner 2014 Spur Award for best first novel
Imagination Library of Grant County
We deliver free, age-appropriate, high quality books to the homes of Grant County's preschool children, from birth until their fifth birthday. We encourage parents to read, sing, talk and play with their children, thus giving children the tools to enter kindergarten ready to learn and increasing the likelihood they will experience success in school and beyond while strengthening family bonds. The only requirements are that the child is under the age of 5, resides in Grant County and has a parent or guardian who promises to read to him/her.
Sharon K. Miller
The first book in The Clay Series, The Clay Remembers, is the story of archaeologist Anna Robinson who, in the Arizona desert, sifts through layers of the past, bringing lost objects to the light of day. But she'd prefer it if her own past stayed below ground. Husband Foster has demeaned and assaulted her, even interfered with her work. Yet the artifacts she unearths, which women before her have shaped, give her the strength to evade him for now and to stand up to him when, armed, he comes after her.
Sharon K. Miller lives and writes in Tucson, Arizona.
WNMU Follett Bookstore
www.bkstr.com/westernnewmexicostore
The WNMU Bookstore is located in the WNMU Student Memorial Building,  1000 W. College Ave. Silver City NM 88061.
Chishawasha African Bags
For orders of 10 or more, email maryhotvedt@aol.com
Take your festival book purchases home in a Chishawasha bag! These cotton bags, handy for all your shopping, are made from colorful cotton chitenge, the everyday cloth of Africa. Each bag is made by and goes to support a grandmother in Zambia who is raising her AIDS-orphaned grandchildren. The sewing project is supported by PEPFAR. These bags are sturdy and make great Christmas presents too!
Suncrest Publications
Jim Smith is an award-winning history teacher who now works under the aegis of Suncrest Publications as a writer, publisher, and education consultant.
His novel, Catherine's Son, a 2013 finalist for the New Mexico-Arizona Book Awards, tells the story of Henry McCarty (aka Billy the Kid) during the two years he lived in Silver City. Jim is also the author of a biography titled Skipper Hall and a U.S. history textbook titled Ideas That Shape A Nation, a book that has been endorsed by educators and scholars throughout the nation, including two Pulitzer Prize-winning historians.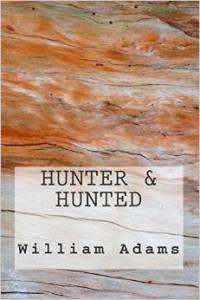 William A. Adams
William A. Adams is the author of Hunter &Hunted (fiction), It Wasn't Me (fiction) , Scientific Introspection (nonfiction)
Patricia K. (Pat) Batta
Marge Christensen's husband dies of carbon monoxide poisoning.  When the police rule it a suicide, it's up to Marge to find out what really happened.  Her rediscovered art talent (and fingers that never forget) help her to find the clues.  Once she succeeds, she gets drawn into investigating one murder after another.  She obviously has a knack for this stuff–but could it be she really enjoys doing it?  What Did You Do Before Dying? is the first of six books in the Marge Christensen Mystery series.
Noemi Press
Noemi Press publishes cutting edge fiction, nonfiction, poetry, and essays on poetics.  Based out of Las Cruces, NM, the press publishes around ten books per year and holds an annual contest for fiction and poetry manuscripts.  The Akrilica series features Latin@poets, and Infidel Poetics explores innovative poetic theories in verse.
Amjad Fatemi PhD
www.auroraoxyrain.com/the-episode-of-life/
Spiritual power permeates every single part of the creation to bring the ultimate consciousness into action.  This understanding is the stepping-stone to see every experience as a sign of guidance in the journey of life.