Reviews of Works Written by 2015 Festival Presenters
On this page, we offer reviews of books written by our 2015 Festival presenters.  We hope these will encourage you to seek out these works and read some or all of them in anticipation of the Festival.
To read a review, just click on a title below  Enjoy!
To see which books are available at the  Silver City Library, visit
https://silvercity.biblionix.com/?booklist=4212
Midnight in Mexico by Alfredo Corchado
Diary of a Citizen Scientist by Sharman Apt Russell
Ditch Rider by Judith van Gieson
All Things, All at Once by Lee K. Abbott
Crater County: A legal thriller of New Mexico by Jonathan Miller
Mother Tongue (a novel) and Confessions of a Berlitz-Tape Chicana (a collection of personal essays) by Demetria Martínez
The Secret Lives of Us Kids and Too Personal for Words-The Invisible Path of Aging by Bonnie Buckley Maldonado

Midnight in Mexico – by Alfredo Corchado
Reviewed by JJ Wilson  at  https://jjawilson.wordpress.com
Alfredo Corchado lives a charmed life. Son of a cook and a bracero (seasonal U.S. field worker from Mexico), the eldest of eight, he worked his way up the journalism tree to the lofty heights of Mexico City Bureau Chief of the Dallas Morning News. He has known personally the last four Presidents of Mexico. In fact, he seems to know everyone, and everyone knows him. The former is handy for a journalist; the latter potentially deadly in a country so steeped in blood.
This dazzling memoir begins with a bang. Corchado is about to go to dinner with his beloved partner, Angela, and friends when he gets a phone call from one of his sources. An American journalist in Mexico will be assassinated within twenty-four hours. No one knows the identity of the journalist or even if the rumor is true. But we do know that Corchado has recently been publishing exposés of people in high places, and it's a fair bet that his head is on the block.
This is the stuff of thrillers (the rights to Midnight in Mexico have already been snapped up by Hollywood). One imagines Tom Cruise escaping via the rooftops. But Corchado does no such thing. He finds himself caught in a Hamlet-like dilemma. Stick or twist? Run or wait?
What follows is a combination of adventure story, personal memoir, a history of Mexico's recent past, and a dissection of the drug trade that has devastated families and communities while perversely providing a living for the poor and downtrodden.
The book is packed with details about how journalists get close to their sources while somehow avoiding being assassinated. Corchado navigates the system through a combination of luck, bloody-mindedness and sheer chutzpah. At one stage he is kidnapped by a taxi driver. He looks through the back window and sees a car full of hoodlums following them. When the taxi slows down at a busy junction, he jumps out, gets swallowed up in a crowd, and walks home. Corchado seems to possess an ability to slip into the shadows whenever he scents grave danger. And of course, he has a nose for it.
Besides the derring-do and the historical background, one theme from the book that I enjoyed was Corchado's take on his identity. He is a Mexican-American who moved in the opposite direction from his parents: from the U.S. back to Mexico. In the States he's seen as a Mexican; in Mexico he's seen as a gringo.
The book is very well-written. Corchado is particularly good at starting chapters with a literary flourish. Of the images he uses to describe Mexico's corruption by the drug trade, one stands out: the problem isn't a tumor that can be removed; it's a cancer that has spread to every cell of the body.
While the book is a pleasure to read, occasionally the dialogue doesn't ring true. Characters rattle something off in Spanish and then provide an immediate English translation, which isn't how code-switching works. Also, one wonders how the author can remember people's exact words years later. Surely he wasn't taking notes when his life was in danger? My only other caveat is the number of names. I sometimes got overwhelmed and found myself leafing backwards to work out who's who. But maybe the point is, it doesn't matter who's who because you can trust no one.
There is a heartbreaking chapter near the end – Corchado's "rosebud" moment – which provides the fons et origo of his compassion and his sense of mission. And in the end, despite the endemic corruption, the mendacity of those in power, and the sheer bloodsoaked brutality of the cartels, Corchado somehow remains optimistic. Time and again he affirms his love of Mexico and his hope for what the future will bring. It may be midnight in Mexico, but a new dawn must come soon.
Back to Book Titles
Diary of a Citizen Scientist – by Sharman Apt Russell
Reviewed on December 15, 2014 by JJ Wilson at http://jjawilson.wordpress.com/
Last week a much-awaited publication arrived in my mailbox: Diary of a Citizen Scientist: Chasing Tiger Beetles and Other New Ways of Engaging the World, by my friend and ex-colleague Sharman Apt Russell.
The first thing you notice is the cover … and what a cover! It tells a tale in itself: a fearless explorer with a net in her hand, not looking back – not caring about looking back – in hot pursuit of something worth trapping – it could be a butterfly or a buffalo for all the intent in that stride.
And yet it reminds me of something – or someone – else. Nabokov! The greatest prose stylist of them all, and a lifelong lepidopterist who spent his summers in the Alps with a net over his shoulder, classifying by night the butterflies he caught by day. One also thinks of T.S. Eliot's J. Alfred Prufrock, "pinned and wriggling on a wall" – the human condition as the metaphor of a trapped insect.


If we envision a pastime of gentility with Nabokov in his Swiss mountain eyrie, Russell soon reminds us that the insect world is utterly brutal. She approvingly quotes Annie Dillard's line: "Fish gotta swim. Birds gotta fly. And insects gotta do one horrible thing after another."
Sure enough, we haven't got past the first paragraph of her diary when she tells us, "Perhaps thirty of [the beetles] feed on the frog's slightly bloated carcass, and I am reminded of lions at kill, although lions don't look half so fierce." A page later we see a second tiger beetle "known for grabbing its prey with sturdy forelegs and sucking out their vital juices." No wonder Russell describes nature as a bloodbath.
Her description of the beetles' mating ritual is hilarious: the male leaps on the female's back and grips her neck. Then "the female tries to throw him off …the two struggle and stagger." Once successful, the male "may stay attached for hours, like some nightmarish backpack." There's nothing like the romance of Nature.

The bulk of the book is made up of diary entries detailing Russell's attempts to capture and study tiger beetles, with help from a couple of expert mentors. What if, like me, beetles aren't your thing? Fortunately, Diary of a Citizen Scientist is full of wit and wisdom and forays into neuroscience and psychology. Even better, the book also offers a portrait of the phenomenon of Citizen Science.
Citizen scientists are devoted amateurs. They spend large chunks of their lives cataloging galaxies, tracking tree frogs, or identifying fossils from long-dry seas. They range from enthusiastic retirees to schoolchildren to just about every type of person you can think of. Pygmies in the Congo use specially formatted smartphones (images instead of words) to record data about deforestation and illegal poaching. Every year, of the 19,000 species newly described, citizen scientists are responsible for 60% of the descriptions.
The information about Citizen Science gives the book heft, the sense of the author joining a movement larger than herself, that will be here and growing long after she's trapped her last tiger beetle. Several times she quotes a line by a scientist who inspires her: "You could spend a week studying some obscure insect and you would know more than anyone else on the planet." The line goes some way to explaining what drives her.
This is a wonderful book, but it's not perfect. Russell quotes a fair amount of email correspondence about tiger beetles, but this is strictly for those who know the lingo, and I found myself wanting to get back to Russell's own (far more welcoming) voice.
Some of the procedures are a bit long, too. As Russell says, "counting 42 setae on the fifth caudal tergite sounds as much fun as reading Proust backwards." Her copy editor went AWOL between pages 89 and 90, making three almost plausible errors (John (sic) Hopkins University; Microbomes (sic) Project; the Gulf Coat (sic)!) in addition to the entirely plausible "red-belled" beetle (should be "red-bellied") on page 44.
But overall, this book is well in credit. The diary itself is enjoyable, and the wider comments on the Citizen Science movement and the desire that drives amateurs to explore the world so keenly are Russell at her best – heartfelt, probing, lyrical.
Back to Book Titles
Ditch Rider by Judith van Gieson
Reviewed by Charlie McKee
As a Southwestern writer, Judith van Gieson imbues her novels with the sensations, atmosphere, cultural mix, and visual images of New Mexico, as well as its raw human transgressions and intrigues.
On page one of Ditch Rider, named one of New Mexico's 100 Best New Books, van Gieson draws her readers immediately into the landscape of Albuquerque's less than desirable neighborhoods, describing her heroine's neighbors' cars, trucks, and trailers "parked in their scraped-bare yards," surrounded by chain-link fence and weeds that grow into trees.
The eighth and most recent of the Neil Hamel series, Ditch Rider paints a picture of the seldom publicized world of disadvantaged young teen girls' inexorable involvement in gang life. Neil Hamel, female attorney/sleuth protagonist, finds herself accidentally drawn into the life and death drama of the dysfunctional youth in her "'hood."
The plot of youth gang murder – pitting girls against boys, with all the associated sociological, psychological, and sexual complexity — unfolds along Albuquerque's seedy "Ditch"; and Neil Hamel's smart and sassy character not only acts as the crusader for justice for children forced prematurely into the adult world of violence and crime, but also subtly and with humor conveys the endemic mix of Hispanic and Anglo cultures inherent to life in New Mexico.
Van Gieson's tongue-in-cheek portrayal of Neil Hamel as a "cougar" living with her hunky young South American boyfriend, The Kid, provides some levity to the otherwise dark tale of young innocence spoiled in the hard dirt of urban violence. And as a bonus, The Kid and his parrot Mimo, who can say "hello" and "pendejo," teach the reader a little street Spanish along the way.
For fans of crime novels, Ditch Rider presents a very real facet of life in the Southwest in a very satisfying read. As the Washington Post Book World states, "Van Gieson's natural and human landscape makes her work exceptional…"
Judith van Gieson will be a guest presenter at the Southwest Festival of the Written Word, Friday-Sunday, October 2-4, 2015, in historic downtown Silver City, NM. All Festival events, except the Saturday night dinner, are open to the public free of charge.
Back to Book Titles
All Things, All at Once by Lee K. Abbott
Reviewed by Tom Hester
Silver City will have Lee K. Abbott for a couple of October days during the 2015 Southwest Festival of the Written Word, but Deming has Lee K. Abbott for all time. When Deming crumbles to dust and blows over Texas, Abbott's magical sentences will yet shiver and glow.
The 24 stories in Abbott's All Things, All at Once match the title but not because the author sucks in the universe-the stories' narrow geography is Deming, El Paso, Albuquerque, Roswell and Clovis, and the stories' stumbling heroes are men who drink too much, play golf, womanize. Men with names like Lamar Hoyt, the Rev. Stuart Edisto Polk, Sr., Reilly Hamsey, Pokey Howell, Jr. Men selling cars, making bank loans, prying mineral rights from property owners, farming, coaching football, ranching, teaching junior high or high school.
In this wind blasted, tiny world, All Things unravels the big issues of life, the way country music lyrics would sound if they were written by Sartre or Kierkegaard. While the surface of All Things is all male, fake as plastic chrome, the feeling is Tammy Wynette's, deep as some alluvial stream.
When a childhood friend is buried alive, Billy Ray Prescott in "The Human Use of Inhuman Beings" can't shake the intimate acquaintance with an angel who is "hohum as a common cowboy." When the minister in "The View of Men from Mars" carries on an affair with Terri Ann Makey of El Paso, he depends on his first-born son to tell the covering lie, just as a children's story had prepared the boy decades earlier. When Frank DeWine – 7th grade social studies teacher and lover of Miss Leanne Elizabeth Perry of the classroom down the hall and of the Red Roof Inn on I-10 – meets the murderous Tango and Whiskey in "One of Star Wars, One of Doom," as they re-enact the desperate emptiness of Columbine, all he can think of is the size of his father's hands and his father's goodness.
With Abbott we're lifting a Miller Light but we're swigging destiny or the absurdity of existence. After deaths of our children we assume multiple personalities of felons and break into our own houses. We make cassette recordings of our encounter with extra-terrestrials and then heave ourselves into madness, "sprocket by spool by spring," feeling our own simple selves coming plumb apart. We join Dillon Ripley when he decides to move his family to Hachita, "where, as we understand it, there is no sport at all save hunting and where the winds, infernal and constant, blow as if from a land whose lord is dark and always angry."
All the tales are delivered in a voice as true to the desert as an ocotillo. If you mark passages you'd like to think more about, whole pages to chew on as on a perfectly grilled steak or to savor like a creamy chocolate mousse, you'll have a book full of highlights. Listen to a sentence or two on the first page of the first story, "It was quick as heat lightning, wicked and unpredicted—odd, I say as ninety nights on Mercury. I'd taken a break from the boogaloo, or whatever it was that Uncle Roy and his Red Creek Wranglers were hollering at us…" You'll want to read the rest, about Pokey and Betty Maxine, as well as Lizzie Elaine, Pokey's estranged wife, and love gone wrong.
These stories and their luminous prose call to mind T.C. Boyle, Richard Ford, Frederick Busch—the best creators of short stories in the late 20th century. And sure enough, there some of their names are on the All Things book jacket, below blurbs calling Abbott a master, among the finest writers of his generation. He is. Silver City readers, take heed.
Lee Abbott will be a guest presenter at the Southwest Festival of the Written Word, Friday-Sunday, October 2-4, 2015, in historic downtown Silver City, NM. All Festival events, except the Saturday night dinner, are open to the public free of charge.
Back to Book Titles

Crater County: A legal thriller of New Mexico by Jonathan Miller
Reviewed by Tom Hester
 When Jonathan Miller participated in the last Southwest Festival of the Written Word, he had what drama professionals call "presence." Presence is confidence, mixed with a cupful of charm and a dash of threat. Lawyers use it to cow their adversaries and beguile their colleagues.
Some lawyers, Miller and John Grisham, leap right to mind, use presence to fashion tales of crime and the law. Miller has an advantage because he and his characters practice law in New Mexico, as different from other states as a sopapilla is distinct from a pancake. In fact, New Mexico in Miller's novel is as important as any character and also drives the plot.
Crater County takes place in a mythical county west of Albuquerque. It's arid except where it's not, specifically a lake convenient for the assistant district attorney's skinny dipping.
Crater, the county seat of Crater County and with the unofficial motto of If you have a day left to live, you might as well live in Crater because it will feel like forever, features two restaurants: the Rustler where the natives eat and the Crossroads, on I-40 and intended for motorists who pay exhorbitant prices for brown-tinged iceberg. The police force operates just this side of Mayberry of TV fame, featuring a fading high school stud who steers a police Corvette and a sort of Barney Fife deputy, decked out as Yosemite Sam.
Three murders, and then two more, furnish the plot, although the first three look to be open-and-shut. The hero of our story, resisting the characteristics of a leading role at every turn, is defending attorney Sam Marlow, probably named when Miller was searching his library for an ideal moniker and his eyes alighted on twin volumes by Raymond Chandler and Dashiell Hammett, ideal writers from whom to swipe a gumshoe lawyer.
The assistant district attorney is Luna Cruz, she of the missing towel, part-Mexican, part-Jewish, with a real resistance to practicing law, especially with her best buddy, DA Diana Crater, from whose family the county got its name. Diana is having sexual identity issues, in part involving a relationship with one of the three victims, Felicia. I think this sketchy list of personages sets the stage, with the assurance that there are more windings and complications than any reviewer could competently handle.
Now for some local color, rather, local stench. The Crater courthouse was renovated from the community center gym because neither the county nor the state had sufficient funds to build a new courthouse.
"Courtroom B smelled worse than usual. Having so many people in such a small place somehow intensified the old racquetball smell—sweat, rubber and old jock straps. Some of the women jurors had gone for perfume as a means of compensating. Unfortunately, Courtroom B now smelled like the basement locker room for an old French whorehouse."
Over this stinking brew presides Judge Benally, part-Navajo, all UNM Lobo. Benally's family developed the famous water Sheep Springs Mineral Water, with a label that has a picture of sheep in a spring. Surely this novel's judge, who leads a recreational tequila tasting in Ciudad Juarez, represents a non-fictional judge before whom Miller has appeared. Equally identifiable, reporting on the malodorous case, is Albuquerque TV news personality Stephanie Park Live, so-called because she always signs off "This is Stephanie Park live…."
This thriller is as familiar as stepping out doors. Some readers not fortunate enough to live with us in New Mexico may find it far-fetched. The truth is Miller didn't have to invent much and he sure knows how to stir in the charm. Silver City readers, take heed.
Jonathan Miller  will be a guest presenter at the Southwest Festival of the Written Word, Friday-Sunday, October 2-4, 2015, in historic downtown Silver City, NM.
All Festival events, except the Saturday night dinner, are open to the public free of charge.
Back to Book Titles
Mother Tongue and Confessions of a Berlitz-tape Chicana – by Demetria Martinez
Reviewed by Tom Hester
Twenty-eight years ago Demetria Martinez—poet, journalist, and activist in the Sanctuary Movement – faced a prison sentence of up to 25 years for smuggling into the U.S. two pregnant Central Americans, refugees from violence in their home country. The federal jury pronounced Martinez, and the Lutheran pastor accused with her, not guilty.
Out of that turmoil of the 1980's came Mother Tongue, a startlingly good account of Mary, an Albuquerque Chicana who protects and falls in love with a Salvadoran refugee. The novel soars with the evocations of place, the descriptions of a boiling stew of political issues and fear and cultural isolation, and the exposé of how people far away from one another can have histories that come crashing together.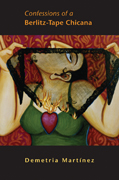 In Confessions of a Berlitz-Tape Chicana, also a must-read for anyone attempting to understand the cultural and linguistic dilemmas facing Latinos/as, Martinez tells how her first novel came to be.
"I wrote my novel, Mother Tongue, in a nine-month trance while working at a full-time job. I had never taken a fiction workshop. Had I known what I was doing, I might never have done it. I pressed on only because of an abiding faith that the story was already finished, afloat in the universe — all that the universe was asking of me was to take the story down. Far from home, in Kansas City, Missouri, I nourished myself on memories of New Mexico and recreated them in the book. (Some days I even put a green chile in the toaster oven so that the scent could transport me back.)"
As she makes plain, Martinez writes her novels out of her poetry, just as Mary's lover, Jose Luis, writes his poetry out of his suffering and his politics.
The poetry in the novel isn't insistent or doesn't interrupt the story like lumps in a bad gravy. Instead, poetry scattered through the prose gives the narrative a sheen.
"San Rafael's bells (in Old Town Albuquerque) pecking away the shell of night."
"To love a man more than one's self was a socially acceptable way for a woman to be insane."
"Touching stucco walls, shopkeepers gauged the heat's advance as if feeling a child's forehead for fever."
From the more than fifty essays in Confessions, a reader can parse materials that furnish Martinez' creations and hence the order of her novel. First there's the language. Next there's the reality–not romance, and reality's present has roots which drive deep into each of our pasts. Next there's desire, sometimes not reality but good enough. Then there are fate and the opposite of fate, which is surprise.
When you pick up Mother Tongue, expect a tale and a set of characters who will stay with you. Expect a love story that bears the scars of war. Expect a New Mexico that pulls other worlds into itself. Because Martinez has added "creativity coach" to her list of occupations, perhaps at the Southwest Festival we can seek insights into her game plan that leads to such a triumphant book.
Demetria Martinez will be a guest presenter at the Southwest Festival of the Written Word, Friday-Sunday, October 2-4, 2015, in historic downtown Silver City, NM. All Festival events, except the Saturday night dinner, are open to the public free of charge.
Back to Book Titles