A Sampling of Verse from the Poets Laureate
Everyone is invited to attend a four-way poetry reading at the Tranquilbuzz Coffeehouse on Saturday, June 17, starting at 2:00 p.m. The event will feature former poets laureate Bonnie Buckley Maldonado and Elise Stuart, and current poets laureate Beate Sigriddaughter and Jack Crocker.
* * * * *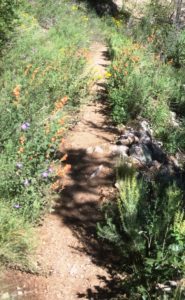 ANGEL LOOP – SEPTEMBER
by Beate Sigriddaughter
In Canto 30 of Paradise, Dante
sings of the laughter of grass.
I am almost there now. Running
on Angel Loop, I rub shoulders
with tall mountain marigold
and goldeneye, a festival
of yellow, some blue
trumpet shapes, some red.
My favorite bald rock stretches
steep into the yellow. Yesterday
I tickled grass. I wanted to
hear laughter, but it was just
crickets rubbing legs in the wind.
I will likely never understand
why we need darkness when
we yearn and strive for light. I get
the concept of duality. Only my heart
is obstinate and wishes to believe
pure light is possible. Meanwhile
a lizard dives face first under
a ledge as I ponder scorpions
and roses. I wish the lizards trusted me.
To them I am one of the shadows
of darkness. Still I want to belong
to light, to laughter, to lizards
believing in love. Today
grass tickled me. There are asters too
now, yellow centers full of summer
scent and whispering goodbye.
* * * * *
"Angel Loop – September" was first published in Desert Exposure as a 2014 Writing Contest winning poem.
HOME PLACE
The house has stood empty fifteen years.
I've returned each summer for the peace I feel
Watching it lean against the absence
Of those who brought it to life.
I walk around it silently and think
I hear the sigh of nails ungrip, letting
The weary rafters and studs pull away
To gravity and the whims of wind.
The circumference of fence is a faint hint.
A few snaggled posts remain,
Useless fangs weathered and veined
Like the final years of my father's skin.
It has held its ground as the tractors cut
The rows as close as they can get
To the front steps and side porch
That looks out yet on the seasons' swing.
I could rent it out, just as I do the land,
But I prefer its future unlived, no thoughtless
Breaths fouling the space or strange feet
Disturbing the floors my grandfather laid.
I let it stand, crypt and museum,
Until the fire came. I took four charred
Bricks, a single disc blade, a faceplate,
And a scorched Old Grandad whiskey flask—
A leftover sin the flames unhid.
Now it's an unmarked grave, all remnants
Bulldozed beneath the ground to free up
Another acre or so for cotton land.
Today I stand like a headstone where
The front steps were, feeling the memorial
Peace of vacant air, purified by fire,
The only movement my mind, ticking,
The way a watch holds time.
Jack Crocker