Review by Tom Hester
Twenty-eight years ago Demetria Martinez—poet, journalist, and activist in the Sanctuary Movement – faced a prison sentence of up to 25 years for smuggling into the U.S. two pregnant Central Americans, refugees from violence in their home country. The federal jury pronounced Martinez, and the Lutheran pastor accused with her, not guilty.
Out of that turmoil of the 1980's came Mother Tongue, a startlingly good account of Mary, an Albuquerque Chicana who protects and falls in love with a Salvadoran refugee. The novel soars with the evocations of place, the descriptions of a boiling stew of political issues and fear and cultural isolation, and the exposé of how people far away from one another can have histories that come crashing together.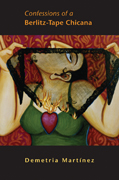 In Confessions of a Berlitz-Tape Chicana, also a must-read for anyone attempting to understand the cultural and linguistic dilemmas facing Latinos/as, Martinez tells how her first novel came to be.
"I wrote my novel, Mother Tongue, in a nine-month trance while working at a full-time job. I had never taken a fiction workshop. Had I known what I was doing, I might never have done it. I pressed on only because of an abiding faith that the story was already finished, afloat in the universe — all that the universe was asking of me was to take the story down. Far from home, in Kansas City, Missouri, I nourished myself on memories of New Mexico and recreated them in the book. (Some days I even put a green chile in the toaster oven so that the scent could transport me back.)"
As she makes plain, Martinez writes her novels out of her poetry, just as Mary's lover, Jose Luis, writes his poetry out of his suffering and his politics.
The poetry in the novel isn't insistent or doesn't interrupt the story like lumps in a bad gravy. Instead, poetry scattered through the prose gives the narrative a sheen.
"San Rafael's bells (in Old Town Albuquerque) pecking away the shell of night."
"To love a man more than one's self was a socially acceptable way for a woman to be insane."
"Touching stucco walls, shopkeepers gauged the heat's advance as if feeling a child's forehead for fever."
From the more than fifty essays in Confessions, a reader can parse materials that furnish Martinez' creations and hence the order of her novel. First there's the language. Next there's the reality–not romance, and reality's present has roots which drive deep into each of our pasts. Next there's desire, sometimes not reality but good enough. Then there are fate and the opposite of fate, which is surprise.
When you pick up Mother Tongue, expect a tale and a set of characters who will stay with you. Expect a love story that bears the scars of war. Expect a New Mexico that pulls other worlds into itself. Because Martinez has added "creativity coach" to her list of occupations, perhaps at the Southwest Festival we can seek insights into her game plan that leads to such a triumphant book.
Demetria Martinez will be a guest presenter at the Southwest Festival of the Written Word, Friday-Sunday, October 2-4, 2015, in historic downtown Silver City, NM. All Festival events, except the Saturday night dinner, are open to the public free of charge.