Bruce Wilson will participate in a panel at the Southwest Festival of the Written Word on Friday, September 29, 2017 at 3:30pm at the Old Elks Lodge in downtown Silver City. The session, "Everything you ever wanted to know about writing," will cover writing, editing, researching, submitting, and marketing. Wilson will join Sharman Apt Russell and John Gist in giving their perspectives on the craft and the business of writing.
Review by Ron Hamm: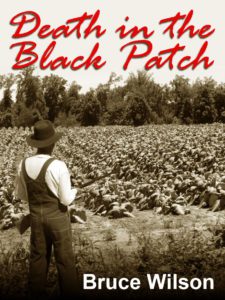 Death in the Black Patch by debut novelist Bruce Wilson is a satisfying initial venture into historical regional fiction. Wilson artfully facilitates our discovery of a 100-year-old chapter of a sometimes violent Kentucky tobacco war history. Wilson skillfully allows the tension in his story to develop and build naturally toward a fateful climax, not entirely unforeseen, despite being foreshadowed by the title. That there would be a surfeit of deaths so tragically intertwined was a surprise which Wilson deftly keeps to himself until his tension-laden denouement. His narrative unfolds naturally as he facilitates empathy for those who deserve it or downright loathing for those who don't. Wilson sketches a compelling sense of place, allowing some of us to see the Bluegrass State as we remember it in our childhood. The novel evoked my father's Kentucky roots and my still squeamish but somehow satisfying memories of squishing bright-green, white-striped tobacco worms between my fingers. Let's hope he finds another chapter of his homeland to explore.
Bruce Wilson is a writer, historian and educator living in Silver City, New Mexico. He teaches American History and English Composition at Western New Mexico University. His debut novel, Death in the Black Patch (Artemesia Publishing, 2016) has garnered good reviews in local and national publications (including the Louisville, KY Courier-Journal and USA Today). Last fall, Wilson led a workshop for the Southwest Festival of the Written Word which focused on the author's role in marketing his/her book. Learn more about Bruce at brucewilsonwrites.com.